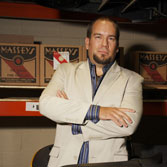 Matt Nielsen is a third-generation owner and manager for Nielsen-Massey Vanillas serving as Vice President of Operations. Matt is responsible for Operations and International Retail Sales.

Matt began working in the family business when he was 15 years old, sweeping floors and cleaning tanks; today his responsibilities include overseeing all operations at the company's headquarters and manufacturing facility in Waukegan, Illinois, as well as its manufacturing facility in Leeuwarden, The Netherlands.

Matt holds a bachelor's degree in management from Gettysburg College in Gettysburg, Pennsylvania. He is a member of the Board of Directors of the Specialty Food Association serving as Vice Chairperson and as Chair of the Admissions Committee, Chair of the Ethics Committee and Chair of the Compensation Committee; member of the Board of Directors of the Specialty Food Foundation; Vice President – Treasurer and member of the Board of Directors of the Nielsen-Massey Foundation; member of the Flavor and Extract Manufacturers Association (FEMA); member of the International Association of Culinary Professionals (IACP); and a member of the Loyola University Family Business Center. Nielsen-Massey was the recipient of the Center's Small Family Business of the Year Award in 2006. Also in 2006, Matt was selected by Gourmet News magazine as one of their top "20 Under 40" in the specialty food industry. In 2015, Matt was honored by his high school alma mater, Wayland Academy, with their Alumni Achievement Award for excellence in his field.

Matt lives in Lake Bluff, Illinois with his wife, Amy, and their son, Tyler. Within the community, Matt is currently active as a member of the Lake Forest-Lake Bluff Lions Club NFP and as a member of the Board of Directors of the Lake Bluff Barbecue Society, competing yearly in the annual Ribfest competition, where his team was twice crowned Grand Champion. In his free time, Matt enjoys spending time with his family, supporting charitable work, golfing, riding his motorcycle and cooking, particularly authentic, competition BBQ.