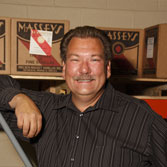 Craig Nielsen is Vice President of Sustainability for Nielsen-Massey Vanillas. Craig began his career with Nielsen-Massey as a part-time employee while he was still in high school and has been with the company on full time basis since 1986. Under his leadership, the company has experienced solid growth, introducing new vanilla products and adding a line of Pure Flavors.

Craig was the CEO for 11 years and has overseen national and international sales, marketing, exporting, new product development, purchasing of vanilla beans, human resources and sustainability initiatives. He has been a frequent guest speaker at many conferences and seminars, lecturing on vanilla in general, Nielsen-Massey's product lines and the company's proprietary manufacturing process that gently extracts more than 300 complex flavors from the vanilla bean, producing the world's finest vanilla products.

Craig is a graduate of Augustana College in Rock Island, Illinois. He is a member of the Flavor and Extract Manufacturers Association (FEMA), where he serves as Chairman of the Supply Chain & Sustainability Committee, and serves on the Alcohol and Tax and Flavor Labelling Committees. He is a member of the International Association of Food Industry Suppliers, the International Association of Culinary Professionals (IACP), the American Institute of Wine and Food (AIWF), the International Dairy Foods Association (IDFA) and the National Ice Cream Retailers Association (NICRA), where he was a former board member and president of the supplier board. He is also a member of the Board of Directors of Nielsen-Massey Vanillas, Nielsen-Massey International and the Nielsen-Massey Foundation; Board of Advisors for Capannari Ice Cream; a member of the Illinois Manufacturing Association; and a member of the Loyola University Family Business Center. Nielsen-Massey was the recipient of the Center's Small Family Business of the Year Award in 2006.

Craig represents the company on the Sustainable Vanilla Initiative (SVI), an industry group that promotes the long-term stable supply of high quality, natural vanilla, produced in a socially, environmentally and economically sustainable way, benefiting all partners along the value chain. The SVI aims to improve vanilla bean farmers' livelihoods and assure the long-term stable supply of high quality natural vanilla. The program liaises with vanilla exporters, producers, sector organizations and public authorities worldwide to progress issues of governance, traceability, labor rights and technical assistance to grower groups.

Craig and his wife live in Grayslake and have two sons.